Seefeld Ski Hire - Ski Rent at Your Service
You've already made a great choice in deciding on Seefeld as your winter holiday destination! And it's you that are on holiday here - so let us help to make sure that your skiing vacation goes as smoothly and efficiently as possible...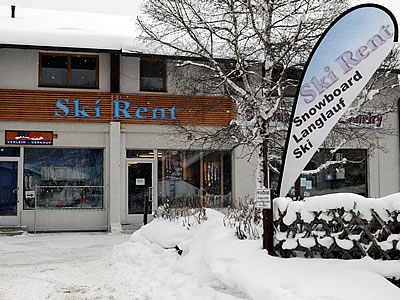 We've worked in ski hire with local and foreign visitors for many years now - whether they are independent travellers or are on a package with a tour company. We'd like to show you why our regulars return to see us year after year:
Top quality ski hire equipment at reasonable prices - check out our pricelists on the equipment pages above.
Our central location - Seefeld has three ski hills and cross-country trails on every side - that's why it's important not to get tied to one area. We've got convenient parking too if you're driving - check out our map of the village...
Friendly multi-lingual staff - we're the main ski hire suppliers for the foreign tour companies. They demand a high standard and value our experience in dealing with Seefeld's many international visitors.
And now we've got a special deal for you - our internet visitors. Make a ski hire reservation on this site and we'll give you 10% off our normal competitive public prices when you arrive and book your equipment hire direct with us in Seefeld.
No credit card, no compulsion - just a great deal for those of you who prefer to wait until you get to resort to sort out the best prices.
So hit the link below to get details of this great discount - or take the time to have a longer look around the site. We hope to hear from you if you have any questions - and we hope to see you for your ski hire needs when you arrive in Seefeld!
Save 10% and book your ski equipment now!