Snowboard Hire in Seefeld
Snowboarding has now become a sport for all generations, but plenty has changed since the days of the first boards in the 70s. Modern snowboards are made from carbon fibre and are therefore especially light and supple. The newer bindings systems also allow far easier use, so that little stands in the way of your enjoyment.
Naturally Ski Rent has reflected these trends and we are proud to offer more than 80 snowboards from top suppliers (Burton, Salomon, Flow und K2) in all sizes.
With this range we can offer the ultimate in boarding fun for everyone from the age of 6 (smaller children find snowboarding too hard because of their body proportions).
Boards
Most of our rental boards are equipped with the FLOW binding system which allows an easy in and out in all conditions. It's also used by professional snowboarders although you will find that the entry and exit by means of one clip is child's play!
In addition, at Ski Rent Seefeld we also use normal snowboard soft bindings from the brands Salomon and K2.
Of course the snowboards in our snowboard rental are regularly sharpened and waxed with our ski service centre, Wintersteiger MERCURY. Here the edge angles and the base structure are brought back into top condition according to the specifications of the snowboard manufacturers, Salomon, Flow/Niedecker and Burton.

Why not try:
Silver Snowboards
Suitable for beginners and intermediate-level boarders, as well as those more experienced. Our knowledgeable staff will choose the right board for your capabilities and wishes.
Youth Snowboards
The same high standards for adults are repeated in our range of equipment for children of between 6 and 14 (snowboarding is normally too difficult for those under 6).
Prices*
(*in Euros)
| Days | Silver | Youth |
| --- | --- | --- |
| 1 | 30,00 | 19,00 |
| 2 | 56,00 | 35,50 |
| 3 | 78,50 | 50,00 |
| 4 | 98,00 | 62,00 |
| 5 | 114,50 | 72,50 |
| 6 | 128,50 | 81,50 |
| 7 | 140,50 | 89,00 |
| 8 | 150,00 | 95,00 |
| 9 | 157,50 | 100,00 |
| 10 | 164,00 | 104,00 |
| extra day | 14,00 | 9,00 |
Save 10% and book your snowboard equipment now!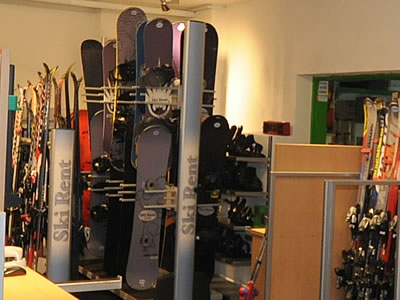 Snowboard Boots
The snowboard boots at Ski Rent Seefeld are from the top brands Flow/Niedecker, Salomon and K2 and all equipped with the BOA® Fit System. No tiresome handling of boot straps in the snowboard rental at Ski Rent Seefeld.
The snowboard boots fit perfectly with the Flow - binding system and are also perfectly adjusted for the Salomon soft bindings. The snowboard boots are available in all boot sizes from MP20 (EU32) to MP32 (EU49).
After each use the snowboard boots are dried and disinfected at Ski Rent Seefeld on our special machine. The best hygienic standards for snowboard boots is the top priority at Ski Rent Seefeld.
Preisliste*
(*in Euros)
| Days | Youth | Adult |
| --- | --- | --- |
| 1 | 8,50 | 13,00 |
| 2 | 16,00 | 24,50 |
| 3 | 22,50 | 34,00 |
| 4 | 28,00 | 42,50 |
| 5 | 32,50 | 49,50 |
| 6 | 36,50 | 55,50 |
| 7 | 40,00 | 61,00 |
| 8 | 42,50 | 65,00 |
| 9 | 44,50 | 68,50 |
| 10 | 46,50 | 71,00 |
| extra day | 4,00 | 6,00 |